Description
A group of young people two guys and three girls decided to go to nature to have a good time and have fun. For recreation, they have chosen a place specially designated for this purpose, which in the people is called camping. While the guys were engaged in installing tents and kindling the fire, the girls went swimming. After the guys did their job, they sat by the fire and talked about the girls while they were swimming. As it turned out, each of the guys among them had a beloved girl who was indifferent to him. After talking a little bit more they came to the conclusion that most likely those girls are lesbians, and therefore, in order to dispel doubts decided to check them. To do this, they sprayed a female pathogen in all the girls' tents and waited for the girls to come back and breathe it. A little later, their doubts about lesbians disappeared, because in each tent they were invited girls with the intention of having sex.
Developer: My Bang Games
Release: 23.06.2017
Status: Completed
Age Ratings: 18+
Categorie: Adventure
OS Platform: Android 4.1+
Language game: English English
Language interface: English English
Features game: Music, Uncensored
Genres: Visual Novel, Anal, Lesbian, Sex, Masturbation, Jerk Off, Big Tits, Group Sex, Flash
From HentaiApk With Love!
Images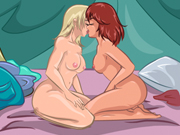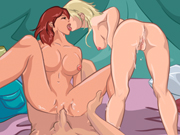 Developer's apps